AMBER Alert Resources
Silver Alert Resources
State and Partner Links
How the State of Alaska AMBER Alert Program Works
Download AMBER plan as pdf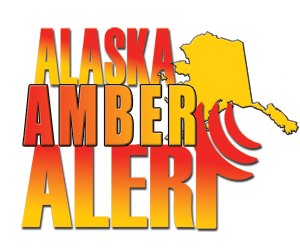 Alaska's AMBER Alert system is available for use by law enforcement to alert the public when a child has been kidnapped and law enforcement believes the child is in danger. The system is designed to use maximum public participation to recover children in only the most serious child abduction situations. AMBER Alerts serve as deterrents to those who would prey upon children.
AMBER Alert cases have shown that some perpetrators release the abducted child after hearing the AMBER Alert on the radio or seeing it on television. AMBER Alerts support public participation in passing on investigative leads to law enforcement and allow communities and law enforcement to work together to recover missing children quickly and safely.
In Alaska, when law enforcement receives a report of an abducted child meeting the AMBER Alert criteria, the Alaska State Troopers are contacted and activate an AMBER Alert. In the event the Troopers are unable to issue the Alert, the Alaska State Emergency Operations Center serves as a back-up, providing redundant alerting capability.
The Alert (including a description of the abducted child, last known location, and available suspect information) is disseminated through:
The Emergency Alert System (EAS) to participating radio and television stations across the State in voluntary cooperation with Alaska Broadcasters and enabled Wireless Emergency Alert devices. Active alerts are broadcast every 30 minutes during the first two hours of activation and then once an hour for the next three hours. Frequent EAS broadcasts are issued during the crucial first hours after abduction.
The Alaska State AMBER Alert web page http://amberalert.alaska.gov/. The page is revised, as needed, whenever additional information is received.
The Alaska State AMBER Alert email notification list.
The Alaska State Troopers and Alaska Division of Homeland Security Web, Facebook and Twitter pages. These pages are revised, as needed, whenever additional information is received.
The Alaska State Department of Transportation and Public Facilities 511 roadway information and Department notification system.
Public reports about an active AMBER Alert are received through Alaska's AMBER Alert hotline 866-AKAMBER (866-252-6237) or through local 911. Alerts are canceled whenever the initiating law enforcement agency determines the Alert is no longer needed.
After each Alert is concluded, an After Action Review is conducted with participating agencies to consider possible improvements.